the first time bright tetteh ackwerh's work gripped my attention was about 3 years ago when he posted an illustration of sarkodie; a well known ghanaian musician looking dapper behind dark shades and clutching a bottle of baileys irish cream in his left hand; the funny twist. it went viral pronto because of the tongue-in-the-cheek wisecrack, as the musician, featured in a bet cypher, had spat in his raps, "i'm the missing ingredient in a perfect meal, call me the irish cream'. the line pretty much didn't sit well with ghanaian fans all over the world, but bright ackwerh's work; an unassuming and clean-cut masterpiece, did poetic justice to the situation.
fast forward 2016, we celebrate the artist coming tops in the kuenyehia art prize competition leaving us to digest his works "bearing visual weight-" same words popularly used to describe russian painter and sculptor kazimir malevich's work. aside the layering, some of bright's works bear humour that stalks to tickle for days. from his million man riot graffiti piece at last year's chale wote festival to his international affairs illustration work about the government's decision to accommodate two guantanamo bay ex-detainees in ghana, we find the prolific artist always coming up with fresh perspectives to the turf. although we all know that combining genres including illustration, painting, graffiti and more is like weaving through human traffic at makola on a peak market day.
like a few other artists in the sub-region, ackwerh is a powerhouse on his own; dropping witty quips when he posts his art, responding to critics in a professional way at the same time manning everything else which comes with the craft. usually, he releases teasers or trailers to get people drooling even before the kaleidoscopic revolutionary bombs. he commented visually on trump, black lives matter, yasin bey in sa, nana aba's non-present selfie, etc. how he weaves work which critiques local as well as the international scene speaks volumes and volts. It might surprise you that aside being a social commentator and dabbling in the thick of affairs in the political realm, he affords flak for sectors like sports, music, the celebrity world and even religion.
tweaa room. illustrated by bright ackwerh 
bright's newest work stands out from the lots. his tweaa room piece which won the kuenyehia prize went viral. his first #veryverygraphic piece which features obama and gaddafi was epic but this new one; 'nonagenarian tins' might crack the internet!
from 1957 to 1960, the head of state under the ghana independence act 1957 was the queen elizabeth ii. she was still the monarch of the united kingdom and the other commonwealth realms . meaning, during those 3 years plus 117 days, ghanaians were still under her crown span even as she was based in the house of windsor. when she handed over power, she visited ghana in 1961 and again with prince philip in 1999, this time around together with a 45-member royal delegation.
in 1999, the warm ghanaian air welcomed her as she descended from her chartered plane, to meet traditional dancers and drummers in full regalia singing ga praises to her. a gaggle of some 5,000 or more cheered and waved, led by the then president jerry john rawlings; who was in his 17th year in power after 2 successive coups and being voted into power in 1996.
the queen inspected the military line-up and was given a 21-gun salute. the undermining results of coups with regards to the common people was very afflictive and the years of military rule had taken a heavy toll on the country. also, proceeds from gold had experienced a crucial dip and had forced the government to seek foreign 'help' to salvage its economy.
yet we marched; thousands of people forming a sizable part of the labour force of the country, to the streets to cheer because the queen was in town. we forget easily that we had to fight a series of colonial wars against the british only to gain independence, were looted extensively, they build their economy off our backs, our civilization and education crumbles due to their structures we adopted, and we even forget nkrumah who was installed as first president was dropped like a dry leaf. but yet, it's left for us to discuss; how do we feel about lizzy having an annual birthday party on the grounds of ghana every year? does it happen in every other commonwealth country or just here? is it significant of her monarchy? how does it go to affect us as a 'liberated' people? 
meanwhile, you might have also come across the promo for the event on social media, featuring a renowned ghanaian musician on the bill. this might have been the muse for the illustration an artist shared on social media only to have his work dissected and analyzed as should be (check the thread)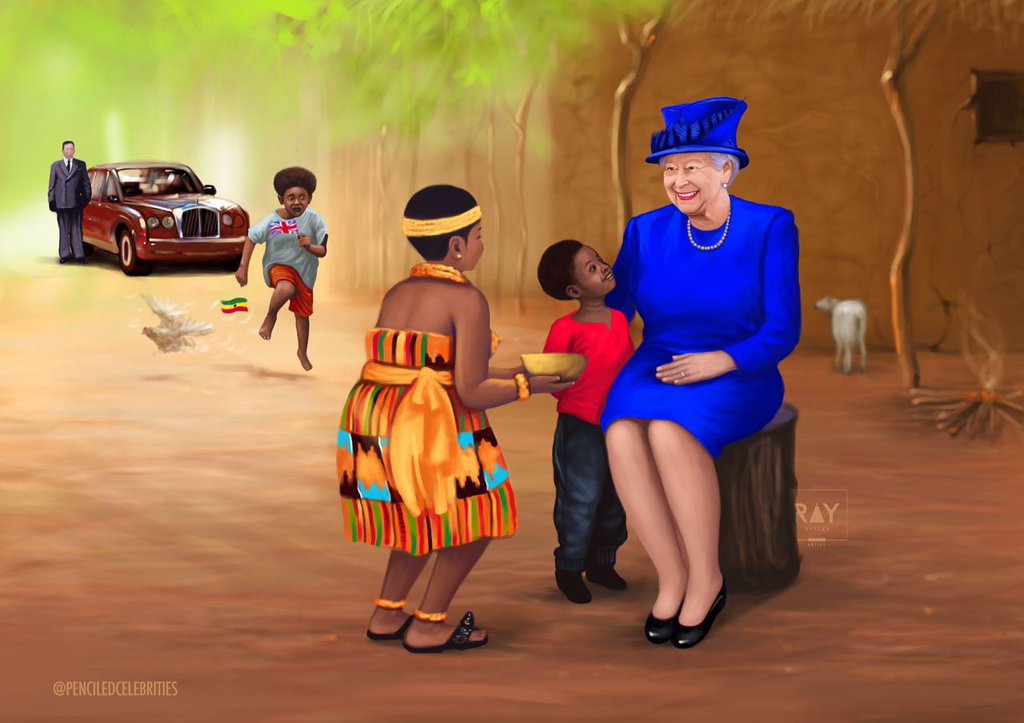 if you will remember, in 1999, the accra metropolitan assembly stripped the streets to be visited by the british royals of hawkers, news-vendors and porters, and roaming lunatics were chained. how does that sound in our own ears? all this 'show' might have been because the government was and is still dependent on 'aid' from the abrofo, also their biggest trading partner with substantial mining and other interests (but what percentage of that trickles down?). sincerely, if we do not discuss these things, will the repetitive mental slavery route ever be cut off? wont we be left to dig our own graves stuck in a capitalist neo-colonialist treadmill continuously fueling the western political economy and so on?
amidst speculations and gross slander that the western media has developed around mugabe and his office, although he's had his own shortcomings time in time out, we see past a figure who celebrated his 92nd birthday on february 21 in a crumbling country and appreciate the pride in a leader who owns his voice because he is not afraid to speak his mind. isn't it vicious that almost all those who ever stood out to speak for the entire continent were cut off? let's do a thought-spin throwback to what happened in libya resulting in the death of muammar gaddafi on 20th october, 2011 during the battle of sirte and ask ourselves in bob marley's words [though he might have been referring to marcus garvey then]: "how long shall they kill our prophets while we stand aside and look"
the culminating moral is that images, films, stories, edifices, events are more powerful than we sometimes think. as much as we only see the dilapidated, dependent and violent part of the continent on television and other electronic and printed media, we grow to be psychologically affected losing esteem and stories like that of yaa asatewaa of the ashanti or queen idia of benin and traumatically become beasts of no nation. the vividly apparent, and emotionally powerful nature of imagery is why white jesus and santa claus exist.
it is of no doubt a healthy community attitude based on socio-political consciousness that students made an attempt to decolonize education across south africa on 9th april 2015, following a university of cape town council vote, when the statue of the imperialist cecil rhodes was removed. yet we still find a rhodes' statue at oxford's oriel college where he schooled in the 1870s before returning to south africa to found the de beers diamond empire which made him one of the world's wealthiest men off the blood and sweat of the local people he oppressed.
"they only want him[mugabe] out because he always speaks his mind true..ok…so mugabe cuts the cake icing soldier's head off and lizzy, practically, is chopping africa up. this is to say; "what is really going on"?…the power images have and how they go on to inspire real life happenings and thought patterns- white jesus' imagery was largely unchallenged at its creation and became an accepted 'fact'. ben okri speaks a lot about this in his diagnosis of the power of stories;" bright ackwerh explains.
mugabe having a truncated buckingham guard on his plate as lizzy is happily 'unlooking' while making a deep slice into africa; a turf which is rich in all the gems you could think of, a people who invented mathematics, chess, alphabets, adinkra, kente, pyramids, african electronics, you name it.